Welcome...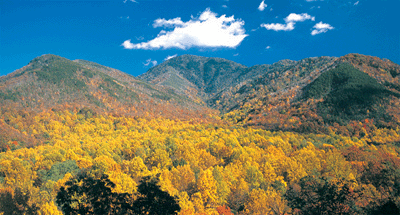 Appalachian Hardwood Manufacturers, Inc. (AHMI) has verified data from the U.S. Forest Service that timber harvesting from the Appalachian Hardwood Territory as defined by AHMI is meeting present needs without compromising those of future generations sustainably. The U.S. Department of Agriculture's Forest Inventory and Analysis research has found that trees are growing at a rate of 2.45 to 1 being removed in the 344-county Appalachian Hardwood Region. The net annual growth has been increasing for more than 50 years.
The Appalachian Hardwood Timber resource includes more than 65.7 million acres in the eastern United States and provides the world with a bounty of the finest hardwood species. The natural conditions that create the Appalachian Mountains' magnificent scenery also produce the world's most beautiful hardwoods. Appalachian Hardwoods grown from northern Georgia to western New York are unique in all the world. At elevations of 1,000 feet and up, all the elements create the ideal environment for superior quality hardwood trees.
There are four characteristics that make Appalachian Hardwoods stand above hardwood lumber resources. Since the 1920s when hardwood from this region began to make a name for itself, Appalachian Hardwoods have: come from a sustainable forest; consistent grain patterns, color and durability; increased yield for manufacturers; and been made in the United States of America. This tradition continues eight decades later as Appalachian Oaks, Cherry, Maple and Poplar set the standard for thousands of products and materials across the world. Slow maturity means tight growth rings, strong fibers and consistent grain patterns which give Appalachian lumber its coveted beauty, strength and durability. With so many elements working together, it's not surprising that Appalachian lumber sets the standard in thousands of products and materials around the globe.
Learn about more GREEN offerings and the health benefits of buying Solid Appalachian Hardwood for your home or office. Learn more about these benefits on our latest video here.

For more information on sustainability, click here.

AHMI members can provide customers with verification of the sustainability and legality of their lumber resource.

The Appalachian Hardwood Verified Sustainable program assures customers that Appalachian Hardwoods are growing more than twice as many hardwoods as are harvested and dying combined.

The Appalachian Hardwood Verified Legal program assures customers that Appalachian Hardwoods are legal products from legitimate timber owners and companies.

Click on each logo for more details.


For more information on legality, click here.
The mission of Appalachian Hardwood Manufacturers, Inc. is to assist you in making the best decision for your hardwood needs. AHMI is a 200-member trade association headquartered in High Point, N.C., the Furniture Capital of the World, and our goal is the promotion of logs, lumber and products from Appalachian Mountain region.
Thank you for visiting our website. To learn more about Appalachian Hardwoods, please follow the links to the top right.